NOTICE FOR ANDROID OS USERS:

Facebook uses an internal browser with its app. If you are not able to see the entire CARDINAL NEWS article, it is likely that your Facebook app settings are configured to refer links to Facebook's internal browser instead of the Chrome browser that is the recommended browser for Android OS users.

There is a bug reported with the Android OS version of the Facebook app that doesn't let Android users see the whole article served from Arlingtoncardinal.com, and is frustrating viewers.

Try one or all of the following three suggestions to eliminate this problem (it's as easy as A, B, or C):

Please note that the instructions below might not be the exact steps if Facebook has changed the settings procedure in the app; however, the instructions should give you enough information to figure out how to change your settings.


Save to Home Screen
A) Save Arlingtoncardinal.com to your home screen and go to it when you see an article in the Facebook timeline that you like. This will also allow you to go directly to Arlingtoncardinal.com anytime and more quickly by going directly to CARDINAL NEWS. If CARDINAL NEWS is on your home screen, it should open completely in your Chrome app ...

#1) Go to Arlingtoncardinal.com in Google Chrome.

#2) Tap create Bookmark (icon, upper right)

#3) An info box should pop up to allow you to name the Cardinal News icon.

#4) Use the dropdown menu to save to your home screen or to a bookmarks folder.


Refer all FB app links to Chrome
B) Change your settings in the Facebook app that directs links to be referred to your phone's true browser (Chrome app) instead of the Facebook app's internal browser as follows ...

Here's how to turn OFF Facebook's in-app browser for link referrals (or in other words, turn ON your link referrals to your default browser) …

#1) Touch the menu button (hamburger: three horizontal lines in the upper right)

#2) Scroll down and touch App Settings, look on the display for "Always open links with external browser" or "Links open externally" option and check the box to activate or slide the slide switch to the ON position.

#3) Exit settings.

YOU'RE DONE. Now when you select a link in your timeline in the Facebook app, you will be referred to a web page or website using your default browser -- most likely the Google Chrome app using Android OS. If you haven't selected a default browser for use from the Facebook app, you might be asked to select the desired external browser when you touch your first link.

You can always reverse the setting if you want to use the in-app browser by going back and unchecking the "Always open links with external browser" option (or turning off the slide switch). Some Facebook users have reasons they want to stay in Facebook's built-in browser, especially for new sites that they don't initially trust and don't want to open in their preferred browser.


Refer FB app links to Chrome (Per Use)
C) Instead of referring all links from the Facebook app to Google Chrome, you can also use the Chrome browser "per use" by only going to Chrome for a specific link at a single use by following these instructions …

#1) Tap 3 dots (…) upper right

#2) Select "Open with…"

#3) Select your browser option if prompted (e.g., Chrome.app)

The article should open completely because you just instructed the Facebook app to open the CARDINAL NEWS article with Google Chrome (or other dedicated browser).

See screen shot with menu activated in mobile view …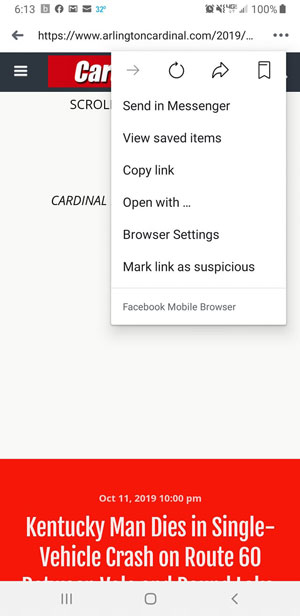 Notice the white spaces that appear in the screen shot above. These white spaces occurred because our native ads and/or native messages did not appear, or our third party ad server ads did not appear. This could be caused by a lack of ads available, or could be caused by an action by the Facebook app that prevents ads or messages from appearing, and prevents the user experience that CARDINAL NEWS intends to deliver. Viewers are strongly urged to use a method of viewing Arlingtoncardinal.com (and possibly other websites users choose) with a fully-functioning browser, such as the Chrome app.

— Arlingtoncardinal.com